Thursday, June 03, 2004
Please visit our NEW WEBLOG. Don't forget to update your bookmarks.
---
Thursday, May 20, 2004
H A P P Y • B I R T H D A Y • T O • U S
Today is the first birthday of the community weblog of Persian students in the UK. I would like to thank all of our members for the time and energy they spent on this collective effort.
Our birthday present is the new version of the community weblog. Now we have our own domain name and hosting, and this weekend - which is almost the end of the final exams season - we will move to the new blog. We are also expanding and taking new members. So if you are an Iranian student or a recent graduate of a UK university, and would like to become a member, please
contact us
.
---
Power of Media

Recently the news headlines have been dominated by stories of occupying soldiers who abuse Iraqi people and POWs. This is not only very sad but also reveals the real intentions of Bush-Rumsfeld and Co. in their so-called operation Iraqi Freedom!

But having witnessed another war for 8 years, I really appreciate the fact that this issue has been brought up by the media, and has attracted so much attention around the world. I'm sure during all the major recent wars e.g. the Iraq-Iran war, the Soviet-Afghanistan war, and probably further back during the Vietnam war, POWs were abused, tortured, and murdered, but we never heard anything about it.

Let me think again carefully, during the Iraq-Iran war, everyone knew that Iranian POWs will be tortured and abused in Iraqi prisons, especially if their ranking in the army was high. We knew it and had accepted this fact: War is war, it's not a nice game. When they used chemical and biological weapons, how could we expect them not to use torture? In other words, human rights especially towards the POWs were non existent.

The only thing that makes me happy out of the current messy situation is that the media are using their power to reveal everything that is going on behind bars and closed doors, and the fact that the issue of human rights for prisoners and POWs has become very important. At least people talk and care about it, this is a very positive change.


---
Monday, May 17, 2004
Persepolis pictures on the way

As I promised I'm gonna share my Persepolis pictures with you guys, although they won't show the greatness of the whole thing,you have to see it for yourself to believe in what you see.
Unfortunately I won't be able to share them all at once so be patient and look for more pics and more changes.
---
Friday, May 14, 2004
Back from Tehran
I came back from Tehran last week but didn't have access to internet and also didn't have that much time to write till now.I've brought you pictures of the traffic light timers, the registration number on cars and will add some pics of my trip to Persepolis.
Unfortunately you have to wait till the next time 'cause I have to upload the pics first then will share it with you guys.But in general, it was a good trip to see family and some of the friends,but had stressful moments as well.
I hope things progress for a better world rather than more demonstrations around the British Embassy in Tehran.[
News
]
---
Monday, May 10, 2004
Sunday, May 02, 2004
The European Brass Band Championship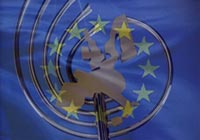 I've been very lucky in the recent weeks and have been exposed to too much culture. Today I got the chance to attend the final part of the
27th European Brass Band Championships
, called the "Gala Concert and Awards Ceremony" which took place in the
Royal Concert Hall
's main auditorium. One of my former coursemates plays in a Brass
band
- they were last year's Scottish champion - and that's why I was invited to the programme.
All the bands who played in the Gala concert were really good, especially the
Yorkshire Building Society's band
which has been the European champion for 5 years in a row, and also became the European Champion for the 6th year! I really loved their last piece which was actually a version of the famous Highland Cathedral theme. My Friend's band -
The Kirkintilloch Brass Band
- were also very good. They played together with a very good bagpipe band and the mix of brass and bagpipe was amazing.
At the end, they announced the results: 1- England (mostly due to the world champion brass band of Yorkshire building society), 2- Belgium, and 3- Scotland. All the participaring European bands are in a
Ceilidh
programme at this time that I'm writing this post :-)
---
Friday, April 30, 2004
Gol-Agha is Gone
I was so shocked when I read the
sad news about Gol-Agha
today. I loved
his magazine
when I was an undergrad student, like many of my friends and other Iranians. Condolences to his family, and all his fans :-(
---
Third Class Posts in Channel 4
Last night
Channel 4
showed a programme about what is going on inside the
Royal Mail
. The programme was called "
Third class posts: Dispatches
". It was a shocking programme, although I have lost letters myself before but considering London as a modern city makes everyone disappointed. The programme said that the Royal Mail loses up to a million letters per week! Also it showed how they recruit people who even cannot read or write English via agencies, they send them out without any training and also they showed a pile of forgotten letter from six or seven months ago or more! The worst part was that how some of these people who works there steal the credit cards and valuable things from so many of us who are waiting for them. At the end of the programme of course Royal Mail didn't accept any of these things which were happening there, I don't know who is going to be responsible for it or investigate it, but I am not sure if I want to send any thing again by Royal mail! You can read the story in
here
.
---
Thursday, April 29, 2004
New stuff from Tehran


Another interesting post from Tehran; let me start by the timers that I talked about in my prevoius posting.
As one of my friends mentioned, it's quite good that by looking at the timer you know how long it's gonna be red or when it's your turn to move. But, if you are driving e.g. by 80 kmph, and you check the timer which is showing 70 sec., what is going to be your reaction? Simple answer, you will cross the road safely, but don't forget this is Tehran. The fact is while you are going to cross the light, the timer will suddenly show 0 sec. and you are crossing the yellow light. Don't we think this is gonna cause more accidents?

Second interesting point which caught my eyes were how the government is acting against the unemployment. If you go to Vali-e-Asr street, you will see huge amount of young people wearing uniforms and doing something quite extraordinary. They are called PARKBAN, which I guess means someone who stops you to stop on the busy spots of the street. If we had enough common sense ourselves don't you think these guys were again umemployed? Or if the police force were qualified enough and people were respecting the laws, what would have happened to unemployment ratio?

We have grown up in a society in which people are used to be told what to do, we need someone to tell us to drive between the lines, we need timers to understand the difference between green, yellow and red lights; Sad but true!

If you are interested in my diaries from Tehran, keep looking for the upcoming posts, which will include the photos of the timers and some other stuff.


---
Wednesday, April 28, 2004
KEANE
I just returned from "
Keane
" concert and am exhausted. They are currently on their first major UK tour and tonight had a very good performance in the
Queen Margaret Union
(QMU) in the
University of Glasgow
. Keane is a new British music band and with their first CD due on mid May, they are becoming popular and famous very fast. Tonight an Irish band opened the program, warmed people up and then gave way to Keane who came up the stage and played. As I expected, their best song was "Somewhere only we know", very good music and vocal (click on the play button on the bottom of their homepage to hear a short sample of this song; it's the first song in the list).
I first heard about Keane about a month ago from a friend of mine who had been to
Travis
concert in the
SECC
. He told me that the program was opened by a new band called Keane and he actually thought that they were better that Travis!! :-)) Apparently this is how new bands introduce themselves to the audience: by playing in the opening of famous bands.
---
Sunday, April 25, 2004
Row Between Berlin and Tehran
Tehran's conservative-dominant municipality has decided to
install a memorial of the victims of chemical and biological weapons
(during the Iraq-Iran war) nearby the German embassy in Tehran. This is in fact a counter-attack to what Berlin's city council did last week:
installing a memorial for the victims of the deadly attack in Mykonos
restaurant in 1992.
First of all, I think the
Berliners did a good job
by installing the memorial. The people who were murdered in Mykonos restaurant in 1992 were members of a Kurdish opposition group living outside the country, and the Iranian government of that time decided to wipe them out. This is clearly an act of terror. Those evil figures (most of them still alive and well) should know that the world does not easily forget what they've done, and they have no where to hide forever.
Second, installing a memorial for the Iranian victims of chemical and biological weapons, by itself, is a very nice and patriotic thing. However, installing that memorial as a counter-attack to what Berlin has done, is not only a disgrace, but also it's taking advantage of the situation of the victims for political purposes, as if the WMD victims and the brave martyrs of the war - who lost their lives to keep the Iraqi invaders away - are toys that Tehran's municipality can play with.
One of the complaints of the Iranian government is that the US backed Saddam Hossein during the Iraq-Iran war, but then a decade later claimed he's evil and his regime needs to be replaced. Thus the Iranian government says the Americans are not honest and no one can trust them. Now, Tehran's mayor is doing exactly the same thing: they claim that Germany was a big supplier of chemical and biological raw materials to Iraq during the 8-year war, and that's why they're installing the memorial nearby the German embassy. I would like to ask them: if Germany was so evil during the war, why was Germany the biggest trade partner of Iran during the same time period (1981-88)? Why did you ignore the atrocities of the German government for 15 years? How come you remembered all that stories recently?
I think this is a shame for the city of Tehran, both in the diplomatic and patriotic senses.
---
Friday, April 23, 2004
More from Tehran
First of all, I thought it's just rainy in Sunny UK but seems Tehran is competing well enough. Second, I am delighted to see sign for
ADSL internet connection
, so seems we are not that far from technology as we thought we are.
Parsonline
is offering this type of service, as far as I've heard there are some other companies which do the same, I'll get some information, to share both with you and also as a personal interest.
Do accept my apologies for not writing more, 'cause this DIAL-UP connection is sooooooooooooo slow, so I'll keep it short and also do not have that much time, busy with different cuisines everyday :o)
---
Wednesday, April 21, 2004
King in Tehran!


As busy as usual, more crowded than ever, yes, This is Tehran. Just arrived and thought it would be good to share some few things that I've seen in my first day of stay in Tehran.

The thing that caught my eyes on the street,were the timers beside the traffic lights which shows how long it's going to be red and how long you have got to cross, impressing :) haven't seen it anywhere else though.

Went to scan something, it took half an hour till finally someone bothered to ask what the hell I was looking for; then he started doing something else, fixing a printing machine. Then the job was forwarded to one of the other guys, which was teaching a new learner in computer stuff HOW TO SCAN FOR DUMMIES :) and when I complained the guy is telling me to talk properly, nice ain't it?

I am wondering if my mind would be full of funny stories when I want to leave or not, but seems it's not impossible.

I love DIAL-UP connection, and hate Broadband users :)


---
UK is the 2nd e-Ready country in the world
The UK has been ranked 2nd, after Denmark, as the most e-Ready countries in the world. The
Economist Intelligence Unit
(EIU) together with
IBM
have compiled this survey since 2000, measuring the most advanced countries in the world in terms of broadband internet access and readiness for e-commerce. The USA ranks 6th in the chart. [
Read BBC Report
]
---